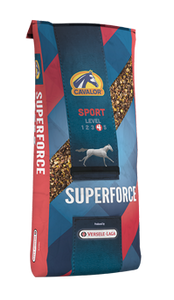 Superforce
Regular price
$58.99
$0.00
Unit price
per
Please contact us if you are interested in this product.
For feed inquiries, please Click Here to contact a rep!
Cavalor® Superforce is a top-quality sports feed specifically designed for the very active competition horse performing explosive short efforts. To adequately perform short intense efforts the horse's body primarily uses sugars derived from grains in its feed.
The more grains, the more energy? Feeding grains must not be exaggerated or it may form too much lactic acid with the result of muscular and digestive problems. Cavalor® YEAST PLUS counteracts acidification in the large intestine.
Cavalor® Superforce contains a special selection of exclusive top-quality grains and an exceptional mix of omega-3 and omega- 6-fatty acids, in addition to amino acids and an extensive range of vitamins, minerals and easily absorbable trace elements.
Furthermore, Cavalor® Superforce contains MUSCLE PLUS, designed to support muscle function.
Prior to competition: Feed 20% Cavalor® Superforce and 80% of current feed
During competition: Feed 80% Cavalor® Superforce and 20% of current feed
USP's:
Very active competition horses delivering short explosive efforts
• CSO, racing, trot, ...
• No acidification in the large intestine
• Higher grain content
• High fat content
ANALYTICAL CONSTITUENTS:
| | |
| --- | --- |
| DE (Digestible Energy Horse) | 12,7 MJ/k |
| VRP (Digestible Crude Protein Horse) | 9,55 |
| Crude protein | 12,5 |
| Crude fibre | 9,5 |
| Phosphorus | 0,60 |
| Crude fat | 6,0 |
| Calcium | 0,70 |
| Sodium | 0,45 |
| Crude ash | 7,0 |
| Magnesium | 0,27 |
| Sugars | 4,5  |
| Starches | 29,5 |
COMPOSITION:
oats / wheat bran / expanded maize / linseed husks / expanded wheat / toasted soya beans /
cane molasses / expanded barley / sunflower seed feed / maize bran / horse bean flakes / soya
oil / maize / alfalfa / palm kernel expeller / wheat gluten feed / wheat / barley / sodium chloride /
brewers' yeast / calcium carbonate / sodium bicarbonate / broken oil seeds / soya bean hulls /
spelt bran / soya feed / palm oil / maize gluten feed
---