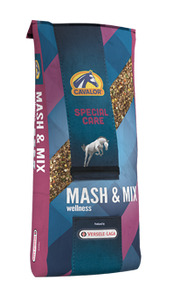 Mash & Mix
Regular price
$56.99
$0.00
Unit price
per
Please contact us if you are interested in this product.
For feed inquiries, please Click Here to contact a rep!
After heavy exertion, horses need a light and easily digestible meal, not highly concentrated feed: Cavalor® Mash & Mix!
This feed contains heat-treated nutritional elements (mainly wheat bran and linseed), easily digestible high-quality raw materials, vegetables and herbs that stimulate digestion.
Thanks to Cavalor® Mash & Mix, your horse replenishes lost fluids and electrolytes after heavy exertion. That is why Cavalor® Mash & Mix with MEGA ELECTROLYTE is a truly responsible reward after a heavy effort.
Cavalor® Mash & Mix is also a great warm meal for cold winter days as it is an easily digestible source of energy (diluted with hot water). 
USP's:
Suitable for all horses and ponies
• Highly digestible
• Replenishes lost minerals after heavy exertion
• Recommended for colic-prone horses
• Dilute with 50% warm water and allow to cool for 15 min
ANALYTICAL CONSTITUENTS
| | |
| --- | --- |
| DE (Digestible Energy Horse) | 13,3 MJ/k |
| VRP (Digestible Crude Protein Horse) | 10,0 |
| Crude protein | 13,0 |
| Crude fibre | 6,5 |
| Phosphorus | 0,50 |
| Crude fat | 7,0 |
| Calcium | 0,90 |
| Sodium | 0,40 |
| Crude ash | 6,5 |
| Magnesium | 0,22 |
| Sugars | 4,5  |
| Starches | 32,5 |
COMPOSITION
barley flakes / wheat bran / linseed / oats / expanded barley / expanded maize / cane
molasses / toasted soya beans / horse bean flakes / carrot chunks / calcium carbonate /
leek / sodium chloride / soya feed / fructo-oligosaccharides / sunflower seed feed / palm
kernel expeller
---