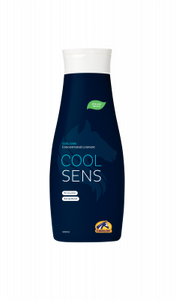 Cavalor
CoolSens
Regular price
$33.99
$0.00
Unit price
per
The ideal way to refresh the body and revitalize the muscles after exertion.

Indication for use:
Cavalor CoolSens contains a mixture of essential oils to wash, refresh and brace the body and muscles of the horse after heavy effort. It works also as a disinfectant for small wounds.

Dosage, application and safety of the product:
Use the top of the bottle to provide dosage.  Mix the contents of 1 top (20 ml) in a pail and add at least 4L of cold water.  Wash the body, especially the back and legs of the horse, with this mixture.  May be rinsed off after a few minutes, but rinsing is not necessary.
Use a maximum concentration of 15 ml/ 0,68 fl. oz. CoolSens 4 liters. For external use only. Avoid contact with eyes. Keep away from children.

Packaging:
- Bottle 500 ml/ 16,9 fl. oz.


---