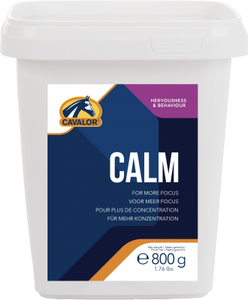 Cavalor
Calm
Regular price
$179.99
$0.00
Unit price
per
Has a restful, relaxing effect on nervous young horses.
Composition and Safety of the Product:
Cavalor Calm is a dietary supplement based on herbs and contains elements that counteract hypersensitivity. Irritability through noise, light and shade, changes in temperature, unexpected movements, other horses, strange situations, etc. is counteracted by a calming effect that does not interfere with the ability to concentrate nor with motor function. Because Cavalor Calm® is strongly diluted, it has no secondary effects whatsoever: no residues and no adverse effects on the liver or kidneys.
Cavalor Calm contains: magnesium, tryptophan, herbs, vitamin B1, B6 and B12. Cavalor Calm® contains no substances that are prohibited in competitive sports.
Application:
Each horse is an individual and therefore has individual needs. It is very difficult to determine an overall dose for a calming product. We recommend searching for the correct dose for your horse.
We advise a starting dose of 3 scoops per day (45g/ 1.59 oz), 2 - 3 days before an expected stressful situation.
Mix with the daily feed ration. This dose can be adjusted according to results produced.  Can also be used for a longer period with a maximum of 4 weeks.
Reduce dosage gradually.
---