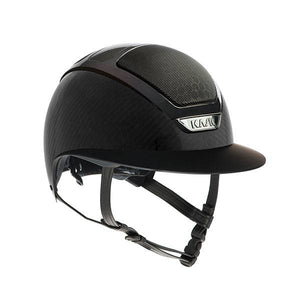 Kask
STAR LADY CARBON
Regular price
$2,099.00
$0.00
Unit price
per
It's time to update your classic look with a more audacious one. This exclusive helmet is featuring a luxurious carbon shell that not only begs to be touched, but with its elegant appearance and high-tech texture, it is ready to give your look some enviable style.
TECHNOLOGIES
Based on two honeycomb-like aeration grids built in the polystyrene, a smart venting system integrated in the helmet provides high standards of cooling airflow, coping the breathability of the inner fabrics to improve the rider's physiological comfort.
Specifically created to provide extra sun protection to the rider, The wide peak protects the skin against weather damage, while assuring maximum visibility.
KASK is well aware that the helmet has to fit correctly to the rider's head, guaranteeing the crucial advantage in terms of safety and wearer comfort. The KASK's patented self-adapting adjusting system in carbon look, introduced for the first time in the equestrian market, allows the helmet to perfectly and automatically fit on the rider's head by gently cradling the back of the head. The high-tech carbon look of this detail highlights the design and the innovativeness of the product.
The soft, eco-leather hypoallergenic chinpad offers unique comfort and prevents skin irritations. The fabric is easily washable, water repellent, and abrasion resistant.
Carbon is one of latest innovations in materials science and manufacturing techniques. The extremely lightweight carbon shell will ensure the rider the best level of performances during competitions and a modern look.
The ideal solution in order to ensure the maximum comfort and hygiene. The internal padding can easily be removed in order to wash it. Hand and machine washable at 30 ° C.
Thanks to the properties of Merino wool, the exclusive KASK technology for equestrian helmets, the internal padding provides unmatched comfort. The Merino wool natural fibre in contact with the skin keeps the body temperature, ensures high breathability and dries quickly.
weight
525 g
product code
HHE00018.201
standards
VG1 01.040 2014-12
ASTM F1163-15
with SEI mark

sizes

From 50 to 59 every cm
---