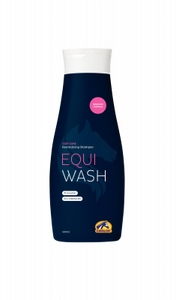 Cavalor
Equi Wash
Regular price
$18.95
$0.00
Unit price
per
Skin-friendly shampoo.
Indication for use:
Cavalor Equi Wash is a mild shampoo that thoroughly cleans the coat of your horse. Cavalor Equi Wash gives a shiny effect to the horse's coat and does not irritate.
Composition and conservation:
Cavalor Equi Wash is a highly concentrated and soft (pH 7-7.5) shampoo that has an important cleaning and shining quality. Cavalor Equi Wash is a mixture of anionic tensio-active elements based on alkylarylsulphonates, which are deodorant and vegetal extracts. It contains no acid or solvent. These properties make Cavalor Equi Washa product devoted to the health and comfort of the animal.
Dosage and application:
Pour 2 to 3 caps of Cavalor Equi Wash into a pail (10 L), add warm water and mix well to obtain a homogeneous mixture. Wash your horse with Cavalor Equi Wash twice a month or more frequently if required.
---