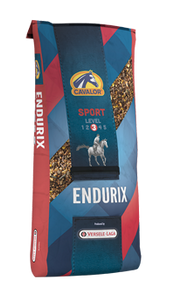 Endurix
Regular price
$59.99
$0.00
Unit price
per
Please contact us if you are interested in this product.
Cavalor® Endurix is a feed for competition horses performing long, aerobic exercises such as long distance and endurance training (e.g. dressage, military, carriage-driving, endurance, etc.). Since these horses must deliver continuous efforts, not only do they need energy from grains, they also need long-term energy sources from good fats like vegetable oils and essential fatty acids.
To be effective, the fatty acids' composition of the used fats is just as important as the fat content.
Because of their sustained intensive efforts, these horses lose electrolytes (essential minerals) while sweating. And that loss needs to be compensated for. MEGA ELECTROLYTE ensures that your horse enters the competition with sufficient electrolyte reserves.
Cavalor® Endurix contains MUSCLE PLUS, a sophisticated blend of vitamin E and selenium that contributes to strengthening the natural resistance and the impact of oxidative stress.
USP's:
Horses delivering long-term efforts
• High fat content
• High levels of electrolytes (salts)
• High levels of organically-bound copper, zinc and manganese
• Highly-digestible ingredients
• Strengthens the natural resistance
ANALYTICAL CONSTITUENTS:
COMPOSITION:
| | |
| --- | --- |
| DE (Digestible Energy Horse) | 13 MJ/k |
| VRP (Digestible Crude Protein Horse) | 9,15 |
| Crude protein | 12,5 |
| Crude fibre | 9,5 |
| Phosphorus | 0,60 |
| Crude fat | 7,5  |
| Calcium | 0,75 |
| Sodium | 0,45 |
| Crude ash | 7,0 |
| Magnesium | 0,29 |
| Sugars | 4,5  |
| Starches | 27,5 |
oats / wheat bran / expanded barley / expanded wheat / linseed husks / expanded maize /
cane molasses / maize bran / sunflower seed feed / soya oil / linseed / alfalfa / palm kernel
expeller / horse bean flakes / barley / maize / wheat gluten feed / toasted soya beans /
sodium chloride / wheat / calcium carbonate / brewers' yeast / broken oil seeds / soya bean
hulls / spelt bran / fructo-oligosaccharides / palm oil
---