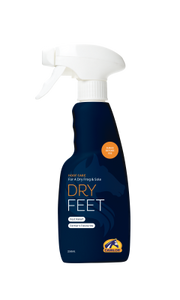 Cavalor
Dry Feet
Regular price
$31.95
$0.00
Unit price
per
An easy to use, highly effective spray to keep the sole dry and avoid thrush.

Indication for use:
Moisture and dirt can cause the frog of the hoof to become soft and result in thrush. Cavalor Dry Feet works quickly and effectively.

Composition:
Contains substances that disinfect and dry the frog of the hoof.

Application and dosage:
Use Cavalor Dry Feet preventively to keep the hoof sole and frog dry (2 times a week), or use Cavalor Dry Feet to treat thrush (1 to 2 times daily for a period of 4 to 5 days).
---